As of April 1, 2021, the Washington Community Market is a community economic development initiative of Community Impact Real Estate Society. The Washington Community Market has been a fixture in the lives of low-income Downtown Eastside residents for more than 20 years.
Now, community organizations, housing operators, health providers and other local businesses are invited to open up an account at the Market and make it your organization's store. It is easy to open an account. Just click the link below to get started!
Create A Company Account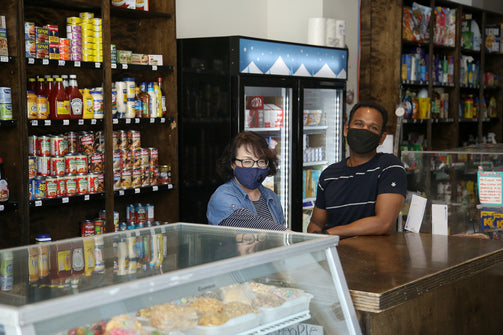 GET IN TOUCH
Our team is warm, welcoming and responsive. How can we help? Let us know below.
FAQ'S
Why should my organization source products from the market?
When you order in bulk from the Washington Community Market, you provide stable jobs to local residents who've experienced barriers to employment. As a community organization, your orders help us sustain an inventory of essential household products and nutritious food, which we can offer as affordable single-serve products to residents on low incomes. We offer diverse products at great prices, helping you keep program costs low. And we're just around the corner!
How can I create a corporate account?
If you are a program coordinator, manager, director or purchaser for a local community organization, it's easy to set up a corporate account. Send a completed credit application form to Eileen Wang at eileen@communityimpactrealestate.ca. Once your organization's credit history has been verified, a credit limit will be assigned based on on your organization's annual revenue:
Applicant Organization's Annual Gross Revenue: < $500,000 | Max Credit Limit: $1,000
Applicant Organization's Annual Gross Revenue: $500,000 to $999,999 | Max Credit Limit: $2,000
Applicant Organization's Annual Gross Revenue: > $1,000,000 | Max Credit Limit: $3,000
Once approved, our team will confirm your store credit limit and terms and will send simple instructions to access the online ordering portal.
What are the credit terms?
Payments to the Market are due 30 days from the date of the invoice. For example, if an invoice is dated January 1 and it says "net 30," then the payment is due on or before January 31.
Accounts that are 45 days in arrears will be advised by email and may be temporarily suspended. Accounts that are 60 days overdue will be temporarily suspended and a demand for payment made. Account that are 90 days overdue will be advised in writing that payment is due immediately and failure to pay may result in CIRES referring the debt to a collection agency.
Accounts that have been suspended are to be reinstated upon full payment of any outstanding invoices. A credit limit adjustment may be made until the customer has established good credit (complete and timely payments for more than six months).
All accounts that are more than 30 days in arrears will be charged 2% interest, compounded on a monthly basis.
What are your payment options?
Corporate account customers can pay via credit card (VISA or Mastercard), electronic funds transfer or by cheque.
How do you keep prices low?
Everyone deserves essential products at an affordable price. To keep our prices as low as possible, the Market purchases from a variety of vendors. Our staff even scout specials at bigger chains so that our customers can benefit from special prices - without having to leave the neighbourhood. No matter how our product shelves grow and change, we will always stay committed to low prices for our community.
What which products are available in single servings?
We offer single sizes of certain products so you never have to buy more than you need. Single-serving products are based on requests and feedback from our customers. Sometimes you just need a little sugar, cereal, toilet paper or cat litter.
Choosing a selection results in a full page refresh.
Press the space key then arrow keys to make a selection.